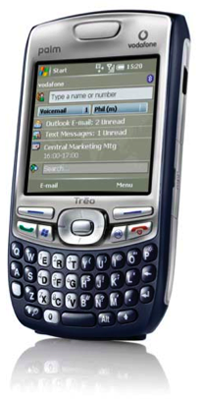 Palm's Treo 650 was undoubtedly the company's best smart phone release in the UK, and while the 750v offers only a couple important new features - Windows Mobile 5.0 and 3G connectivity - it's nonetheless a big step forward. But it's not the leap ahead that its predecessor was over the 600, and there are still some surprising omissions.

The 750v is clearly a member of the Treo family - Palm has tweaked the design, but there's nothing radically new here. Yes, the antenna stub's gone, which is a bonus. While not for me a deal-breaker, the antenna certainly was for many other potential European buyers. The corners of the phone are less pronounced, but the new model has a more angular look reminiscent of Vodafone's BlackBerries, particularly the 7100v.

Palm has shaved a millimetre or so off the 650's dimensions - more if you include the 650's antenna - and 24g off its 178g weight, but the 750v counter-intuitively felt to me to be larger than the 650. The features on the back of the device are all there - speaker, camera, external aerial connector, battery compartment - just rearranged slightly. The 750v's dark blue and silver colour scheme is suitably sober and corporate-friendly. The blue area is tactile - it's vaguely rubbery - and feels good.

The front's much the same as before too, with essentially the same array, this time tweaked for Windows Mobile rather than the Palm OS. The QWERTY microkeyboard is more 'smiley' than before, but I'm not convinced it's an improvement or a hindrance. The bigger call make and break buttons - positioned now next to Windows Mobile Today and OK keys - gets a thumbs up, though, as does the enlargement of the two keys above them, and their reallocation as soft-menu keys rather than application launch buttons.

The big change is the display, reduced from the 650's 320 x 320 to a more Windows Media-friendly 240 x 240. It's still a 16-bit colour job, but the smaller resolution doesn't make itself felt, and the UI looks as good here as it does on other, larger-screened Windows Mobile devices. The screen's nice and bright, and you can turn the backlight down a fair way, to conserve battery power, without it getting too dark. Outdoors, in bright light, it's not so easy to read, but then the screens on few smart phone are in these conditions.

The top of the device is still home to the very handy mute switch, but the SIM slot's now inside, under the battery. The 650's top-mounted infrared port can be found on the 750v's right side above the covered Mini SD slot - the cover also protects the 750v's reset switch. The left side of the phone is, once again, home to the volume control and a third button that, this time round, activates Windows Media Player when held.

Palm's Multi-Connector can be found on the base next to the 2.5mm headset socket and microphone. Multi-Connector is well established now, so accessories shouldn't be a problem.Internally, the spec's little changed: a 300MHz Samsung CPU replaces the 650's 312MHz Intel XScale part, and the memory's now up to 128MB - all of it Flash, as before. Once apps have be run once, they start up again quickly. The 750v never felt sluggish.

The camera's now up to 1.3 megapixel, but the 2x zoom is unchanged. There's no front-mounted camera for video calls, which suggests Palm and Vodafone doesn't think Treo users want 3G for that sort of thing, so they probably won't be overly bothered by the below-par camera resolution. There's no HSDPA here, but the 3G tri-band UMTS connectivity is backed by quad-band GSM/GPRS/EDGE support, making the 750v ideal for roaming. In the UK, call quality was fine. The call strength icon rarely dropped below two bars - much like the 650, despite the lack of antenna stub. The 650 also introduced Bluetooth to the Treo family, and while the 750v is still a Bluetooth 1.2 device, it now has A2DP stereo audio support.

Other tweaks include voice commands, voice recording and streaming media support, all three features inherited from Microsoft. All welcome, of course, but none I'd drop a 650 for. Which leaves, as I said, connectivity and the OS the key considerations here.

The 750v is a good Windows Mobile device. As I said, the screen looks good and provides ample space for information readouts provided you don't turn the on-screen keyboard or character-entry area on. And why would you? The 750v's keyboard is entirely fit for purpose, and with a clearly marked numeric pad, much better to use, I'd say, than any on-screen dial keys. With one hand or two, it's good to use. There is a phone dial pad, though, if you want one.

Yes, 240 pixels isn't as good as 320, but I found it less of an encumbrance than I'd expected it to. Even 240 x 320 displays are limited, particularly with apps like Internet Explorer, and the missing 80 pixels add up to surprisingly little extra screen space. Speaking of browsers, the 750v does indeed use IE rather than Palm's own browser, Web, which remains the better of the two at rendering for the small screen websites designed for large monitors.

That said, when I added more than two speed-dial numbers, the web search field was pushed off the Today screen, reachable only by adjusting the scroll bar. This could happen with a 240 x 320 display, of course, but it's a little less likely, and Palm missed a trick by implementing the speed dial listing as a pop-up menu which, oddly, the speed-dial entries actually look like. As it stands, the scroll bar severely weakens the Today screen's role as at-a-glance status display.

I'm pleased to say, though, that Palm's instant messaging metaphor for presenting text messages has been carried over from the 650. Palm has also improved the standard Today screen with its own layout, adding a space for contact look-up and phone number entry - so there's no Phone screen here - as well as a drop-down menu of speed-dial numbers and a web search entry field. And Palm appears to have done a better job than other Windows Mobile device makers of adapting the OS to stylus-free usage.

There is a stylus on board, just in case - a thin but full length job that's better, I'd say, than most and certainly an improvement on the telescopic stylii used by many other Windows Mobile handsets. You will need the stylus now and then, typically in apps where the focus is fixed on a text-entry field, but there's probably not much Palm - or HTC for that matter - can do about that until Microsoft writes Windows Mobile for single-handed, keyboard input first, stylus input second, and not the other way round.

Actually, a stylus does prove handy in one respect: for reseting the system. The 750v's reset button is hidden under the Micro SD card slot cover. I had need of it two or three times during the time I spent with the smart phone. I didn't have to do so with the 650, so I'd say it's a Windows Mobile issue rather than a Palm one.

The 750v provides Windows Mobile's own Outlook client for access to POP, IMAP and Microsoft Exchange Server, the latter with push email support. Vodafone's own push email service is delivered through a separate client app licensed from Visto. The Today screen's Email soft menu, incidentally, links through to Outlook rather than the Visto software, but it's clear the carrier wants you to use the latter: despite setting up my standard - and frequently used - POP and IMAP email accounts in Outlook, the 750v refused to connect to either, even with a 3G connection already established.

For all the WLAN-enabled handsets out there from HTC and its partners, from Nokia, from Sony Ericsson and from others, Wi-Fi still isn't part of the Treo specification. So there's no using your home or office hotspot to access the internet and email cheaply.

With its Windows Mobile foundation, the 750v should be a candidate for VoIP, over the 3G link since there's no Wi-Fi. Out of the box, the phone won't connect to Skype's website, which the phone reports has been restricted by the carrier. Vodafone, it seems, believes 750v buyers are, by default, under the age of 18 and therefore blocks access to www.skype.com. IE presents a link to turn off this restriction, but all I got was a web server error message when I tried it on the 750v.

It gets worse. You're not even allowed to send pictures taken on the phone's camera by Bluetooth, only email or MMS - usage of which, unlike Bluetooth, renders gold unto Vodafone. You can't send files to the Treo by Bluetooth either. For the 750v, it seems Bluetooth exists only to connect the handset to wireless earpieces. Admittedly it's a while since I used one, but I don't recall the unlocked Treo 650 imposing these kinds of limitations.

None of this reflects well on Vodafone. Palm's own support site cast the handset maker in a better light - it appears non-Vodafone 750s will be allowed to do some if not all of this stuff. It's a shame because in all other respects the 750v is an excellent smart phone. Consequently, a device that might have scored 80 or 90 per cent rates much lower.

The 750v is at least a 3G device, and while there's no HSDPA high-speed download support, I got some good data transfer numbers from vanilla UMTS connections. A 23.1MB file downloaded from Microsoft's website took a little over six minutes to download - roughly 513Kbps.

Palm's Treo 750v is an impressive addition to its smart-phone line-up. It's an eminently workable Windows Mobile device, and while I personally prefer the Palm OS, the Microsoft OS has evolved to become a worthy alternative. In some ways it's better, particularly given its push email support and Exchange Server compatibility. And Windows Mobile in no way hinders the classic Treo experience.

3G is clearly a boon too. It's pity there's no HSDPA support, but Vodafone's funny about giving smart-phone users access to it, in any case. In fact, if there's a flaw with the 750v it's the carrier. The restrictions placed on users go too far for me, genuinely preventing me from performing tasks on the 750v that I can easily do on other network-tied handsets. Unless you're wedded to Vodafone, I'd wait for until its exclusivity period ends and Palm releases an unlocked 750!!